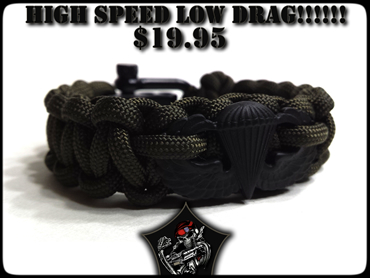 - The "High Speed, Low Drag" Bracelet is our Economy line Bracelet.
- The "HSLD" Bracelet only has 2 inter core cords vs. the 6 cords we have in our Cobra and King Cobra Bracelets.
- Choose from the Colors available to customize your Bracelet, all Paracord is MIL-SPEC 550 lbs paracord.
(This is not the same paracord you see sold in most stores. This is the same Paracord used for military parachutes. It is the real deal.)
- The Black stainless steel shackle is included and is load bearing and is guaranteed to never rust or break.
- Wings – All our wings are Authentic (MIL-SPEC) wings, they are the real deal!
- All our products have our Lifetime Warrior Guarantee.
- You can hand wash our Bracelets with warm water and soap or detergent.
- All our Bracelets are Hand Made in the USA by Veterans!
NOTE: Having full sized Senior or Master Wings on this Bracelet is not recommend by us, we recommend the Mini Senoir or Master Badges.
Available Options (Some Options may not be Available on all Models)